Colorado is filled with so many great attractions to do throughout the entire state. No matter what season it is, there is something that you can do. Which can get a bit overwhelming when you don't know how to narrow it down to a weekend activity.
Well, we're here to help. We've compiled a list of our 10 must-see attractions for Colorado to help you decide what you'd like to do this weekend. Remember to check weather conditions and if places are open before heading on out.
1) Rocky Mountain National Park
Rocky Mountain National Park is 415 square miles of spectacular views. You don't want to miss out on the Trail Ridge Road. The road crests at over 12,000 feet and includes many overlooks to help you experience the grandeur of the park. The park also has over 300 miles of hiking trails where you can find stunning beauty with the wildflowers, wildlife, and starry nights.
For more information about Rocky Mountain National Park, check out their website.
2) Pike National Forest
Pike National Forest is one of eleven in Colorado and one of 154 in the United States. Filled with several 'fourteeners', or mountains that surpass 14,000 feet, you won't be short on beautiful mountain peaks. But Pikes Peak is the most dominant and most well-known recreation attraction in the forest. Thanks to the famous 'Cog Road' you can get to the top of Pikes Peak. Though if you are looking to hike it, you can on the Barr Trail from Manitou Springs.
For more information about Pike and San Isabel National Forests, head on over to the website.
3) Great Sand Dunes National Park and Preserve
The Great Sand Dunes National Park boasts the tallest dunes in North America. Which is a perfect centerpiece for the diversity of land surrounding it, like the grasslands, alpine lakes, and tundra. If you get the chance, spend a night out there where on a moonless night you can see the starry sky with no light pollution. Or on nights with a bright moon, head out for an amazing walk on the dunes.
Check out the website for the Great Sand Dunes for more information.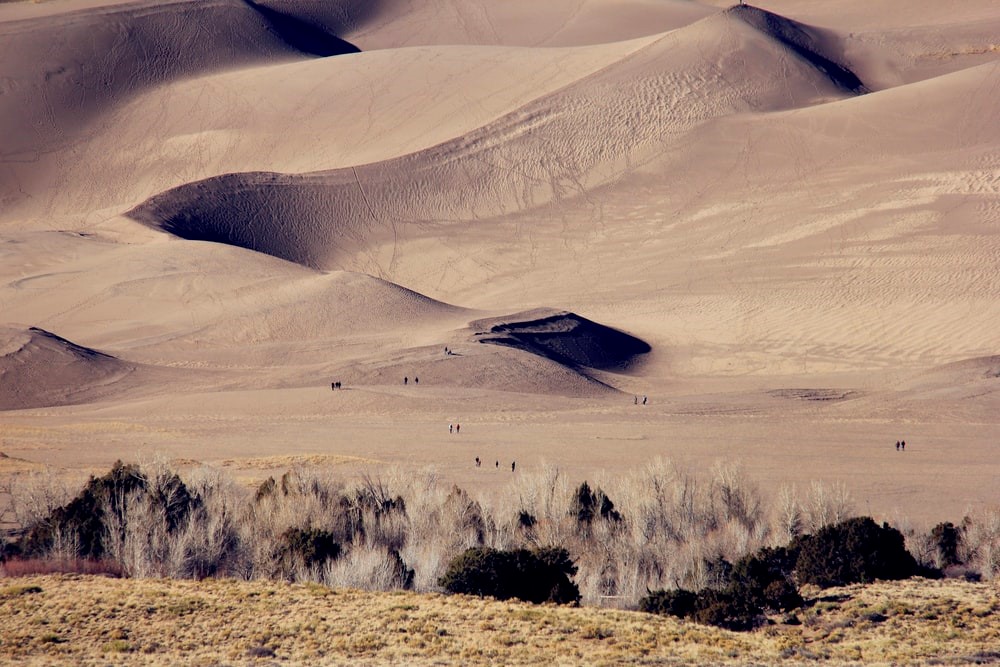 4) Durango and Silverton Narrow Gauge Railway
The historic train ride between Durango and Silverton has been in continuous operation since 1882. This family-friendly ride is a great way to spend your day with stunning canyon views in the wilderness not accessible by any roads. The ride is just over 2 hours one-way. If you aren't up for 4 hours on a train, have someone who can pick you up at the top. While there, you'll want to check out the railroad museum in Durango.
For times and tickets, head on over to the Durango Train website.
5) The Million Dollar Highway
Part of the San Juan Skyway Colorado Scenic Byway, this highway is supposed to have taken a million dollars a mile to build. Going from Durango, through Silverton to Ridgway, the Million Dollar Highway is one of the most gorgeous drives in the states. Cut from the side of the mountain, you'll have spectacular attractions. While the highway is open year-round, be sure to check weather conditions before heading up as you don't want to get stuck up there in bad weather.
To read more about the Million Dollar Highway, head over to the website.
6) Mesa Verde National Park
Mesa Verde National Park was established to help preserve the archeological heritage of the Ancestral Pueblo people. There are nearly 5,000 known sites, with 600 cliff dwellings. If you are up for the adventure, go on one of the ranger-led tours where you can climb ladders right up into the heart of the dwellings. But if you aren't up for that, it's still worth going to the lookout where you can see them from afar.
To plan your trip, check out the Mesa Verde National Park website.
7) Dinosaur National Monument
Situated on the border of Colorado and Utah, Dinosaur National Park is the home of some amazing dinosaur remains. You'll want to start your trip with the Quarry Exhibit Hall, where you can get up close to over 1,500 dinosaur fossils that are exposed in the wall. Then head out to explore the beautiful surroundings. You can find petroglyphs and homesteads. And if you're feeling adventurous, try some river rafting while your there.
Check out Dinosaur National Monument's website to help plan your visit.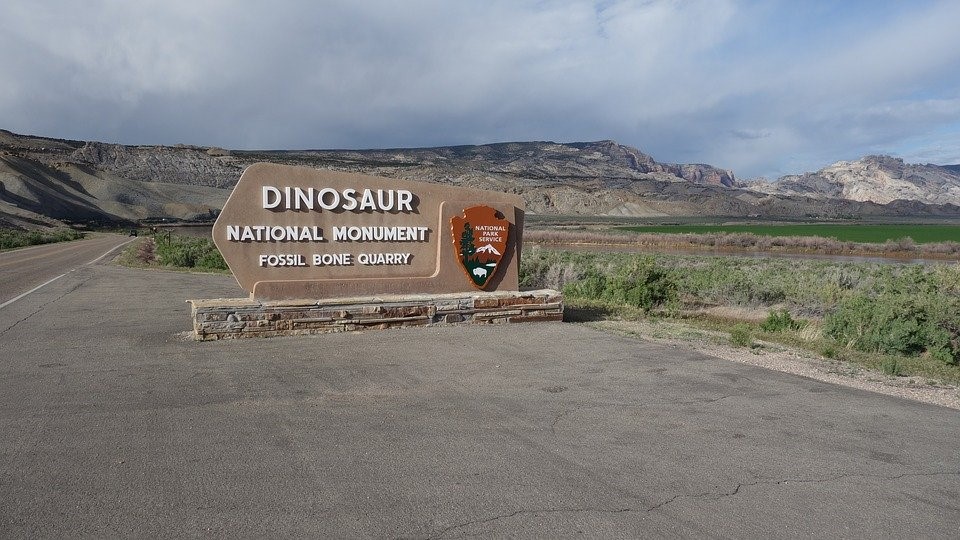 8) Colorado National Monument
Colorado National Monument is a national treasure that is much more than just silly attractions. With the towering monoliths within a vast plateau, you'll want to take the Rim Rock Drive to experience the stunning beauty. Along the drive, you'll see sheer-walled, red rock canyons among the twists and turns of the road. And if you keep an eye out, you might spot a bighorn sheep.
You'll find more information about the Colorado National Monument on their website.
9) The Black Canyon of Gunnison National Park
The Black Canyon of Gunnison National Park takes you to some of the steepest cliffs in North America. The view can be a bit overwhelming with the vastness of the canyon. Check out one of the scenic drives or go fishing. No matter what you choose, there is plenty of things to do.
To plan your trip, head on over to the Gunnison National Park website.
10) Garden of the Gods
This National Natural Landmark has some gorgeous scenery. The Garden of the Gods boasts towering sandstone rock formations with Pike's Peak off in the background. Start off your visit with a stop at the visitor center and museum where you can learn how the red rockers got there. And when you're done there, head out among the grandeur of 300 feet of rock formations. There are plenty of things to do. Whether you want to hike, bike, or rock climb, you'll find it here.
Be sure to check out their website for more information and to plan your trip.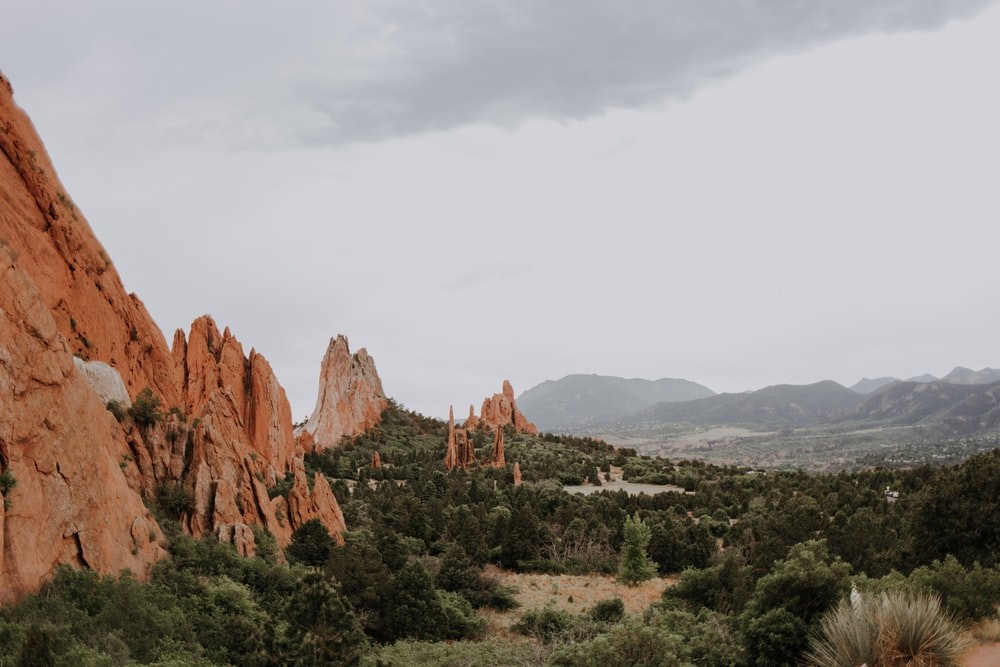 We may have only listed a handful of our favorite attractions to visit in Colorado. But this is by no means an all exclusive list. There are far too many great attractions to possibly name them all. What are some of your favorites around the amazing state? Head on down to the comments and let us know.
If you're convinced Colorado is the best place for you, or if you're looking for a new place to live, find your next dream apartment here. And as you search for the best apartment to fill your needs, be sure to check out our post on rent comparison throughout the state.