Arista Flats Apartments
Arista Flats Apartments in Broomfield, Colorado is where you'll want to come home every night. Each apartment has stunning amenities that take your living to the next level. And situated in a thriving community surrounded by so many amazing shops. You don't want to miss out on this wonderful complex.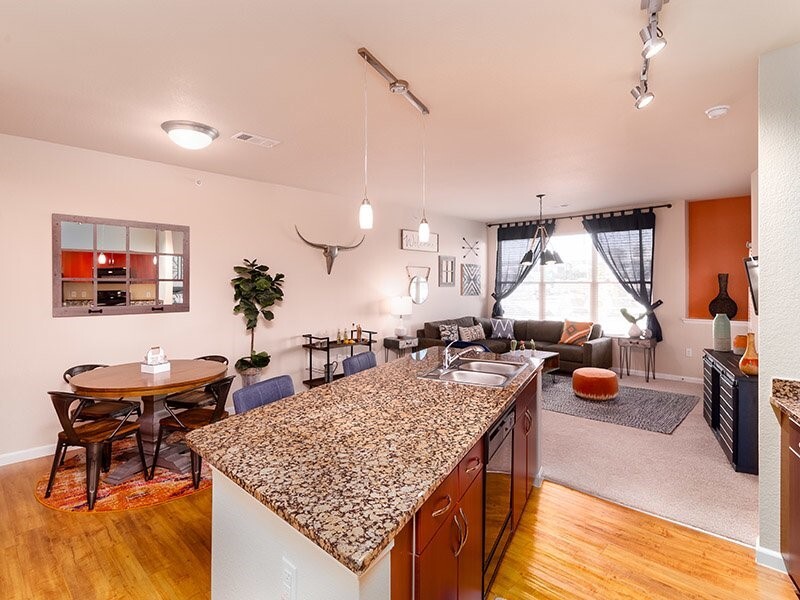 Amenities
At Arista Flats Apartments, there are so many incredible amenities that you'll want in your next home. These great pet-friendly apartments come in three spacious options: one, two, and three-bedroom apartments to fit all your comforts. Here you'll enjoy spacious closets, a private patio/balcony, a washer and dryer, and pendant lighting. In the kitchen, you'll find a kitchen island, granite countertops, and sleek and contemporary appliances. Be sure to ask about the spaces with high vaulted ceilings and the breathtaking views.
If you're looking for community amenities, then these apartments in Broomfield, CO are the perfect place for you. Not only can you enjoy mountain views, but you'll also enjoy all the complex has to offer. With a state-of-the-art fitness center as well as a yoga room with fitness classes. Or spend some time after work in the heated resort-style pool or go hang out in the social lounge with a game room.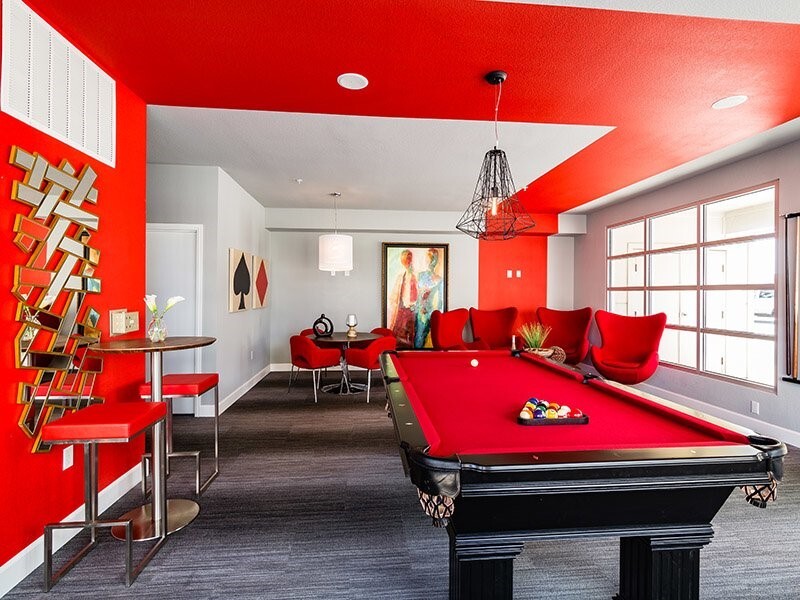 Neighborhood
This beautiful complex is in a thriving neighborhood full of many great things to do. If you want to spend some time outdoors, head out to Cradleboard Trail for hiking and mountain biking. Or plan a day at Greenway Park Golf Course. If shopping is more for you, you'll want to check out Sheridan Crossing Shopping Center or Broomfield Town Center. When you're done for the day, stop in at Busaba for a delicious Thai dinner before heading home for the evening.
For more information about this apartment or others like it in the area, head over to our site. And while you're here, be sure to check out our post about seven hot springs to visit in Colorado.
Arista Flats
Come home each day some of the best apartments for rent in Broomfield, Colorado! Choose from spacious 1, 2, or 3 bedroom apartments that provide you with custom features such as pendant lighting, kitchen islands, private balconies, and in-home washer and dryers! Your new home in Broomfield allows you to step into a lifestyle centered on ease and simplicity. Our thriving community is enhanced by local attractions that give you close access to a world of entertainment, activities, and relaxation. With unique amenities such as a state-of-the-art fitness center, yoga room, social lounge, clubhouse, and heated resort-style pool, you'll have everything you need to both relax and play at our pet-friendly apartments in Broomfield. Apply today!
About
1, 2, & 3 Bedroom Lofts & Apartments
Call for Pricing
Address
8200 Arista Place
Broomfield, Colorado, 80021
Contact
(720) 927-7670
aristaflats@amcllc.net
Floorplan
SQ Feet
Bed/Bath
Price
1X1-771
771
1 Bed
1 Bath
Contact Us for More Details
See Website
1x1-767
767
1 Bed
1 Bath
Contact Us for More Details
See Website
1X1-854
854
1 Bed
1 Bath
Contact Us for More Details
See Website
1x1-795
795
1 Bed
1 Bath
Contact Us for More Details
See Website
1X1-837
837
1 Bed
1 Bath
Contact Us for More Details
See Website
1X1-840
840
1 Bed
1 Bath
Contact Us for More Details
See Website
2X2-1105
1105 - 1107
2 Bed
2 Bath
Contact Us for More Details
See Website
2X2-1116
1116
2 Bed
2 Bath
Contact Us for More Details
See Website
2X2-1026
1026
2 Bed
2 Bath
Contact Us for More Details
See Website
2X2-1103
1103
2 Bed
2 Bath
Contact Us for More Details
See Website
2X2-1202
1202
2 Bed
2 Bath
Contact Us for More Details
See Website
2X2-961
961
2 Bed
2 Bath
Contact Us for More Details
See Website
2X2-1078
1078
2 Bed
2 Bath
Contact Us for More Details
See Website
2X2-1189
1189
2 Bed
2 Bath
Contact Us for More Details
See Website
3X2-1285
1285
3 Bed
2 Bath
Contact Us for More Details
See Website
2X2-1155
1155
2 Bed
2 Bath
Contact Us for More Details
See Website
2X2-1202G-With Garage
1202
2 Bed
2 Bath
Contact Us for More Details
See Website
2X2-1214
1214
2 Bed
2 Bath
Contact Us for More Details
See Website
1X1-837-Full Renovation
837
1 Bed
1 Bath
Contact Us for More Details
See Website
2X2-1187
1137
2 Bed
2 Bath
Contact Us for More Details
See Website
2X2-1187-With Garage
1137 - 1187
2 Bed
2 Bath
Contact Us for More Details
See Website
2X2-1214-With Garage
1214
2 Bed
2 Bath
Contact Us for More Details
See Website
2X2-961-Full Renovation
961
2 Bed
2 Bath
Contact Us for More Details
See Website
1X1-804
805 - 841
1 Bed
1 Bath
Contact Us for More Details
See Website
1X1-804-With Garage
804 - 841
1 Bed
1 Bath
Contact Us for More Details
See Website
2X2-1103-With Garage
1103
2 Bed
2 Bath
Contact Us for More Details
See Website
2X2-1103-Full Renovation
1103
2 Bed
2 Bath
Contact Us for More Details
See Website
STU-540
540
0 Bed
1 Bath
Contact Us for More Details
See Website
See Website