With spring slowly getting warmer, there are more of us looking for a way to get outside and enjoy the great weather. But that means finding the best place to go that has covers all your outdoor needs. Colorado is filled with amazing outdoor places that need to be explored. And choosing just one place can be a bit daunting.
Today, we're heading over to Paint Mines Interpretive Park in El Paso County to get a closer look at all the great things the park has to offer. Remember to check out the weather and their website (or their twitter account) for local updates before heading out for an in-person visit.
About the Park
The Paint Mines Interpretive Park is around 750 acres of amazing geological formations. Which includes amazing spires and hoodoos that have formed through erosive action. Be sure to check out not only the spired and hoodoos but the winding gulches and the surrounding grassy meadows with wildflowers in the late summer.
Because of the vast shades of creamy white to orange, purple, gray, rust, and even chocolate brown, it has been rated one of Colorado's most colorful places. This protected sight, with its fragile formations and natural animal ecosystem, shows evidence of ancient Native American life as far back as 9,000 years ago. To help protect the magnificence, pets are not permitted. Nor are motorized vehicles or camping.
The park includes a restroom facility, four miles of trails, interpretive signage, and many natural wonders.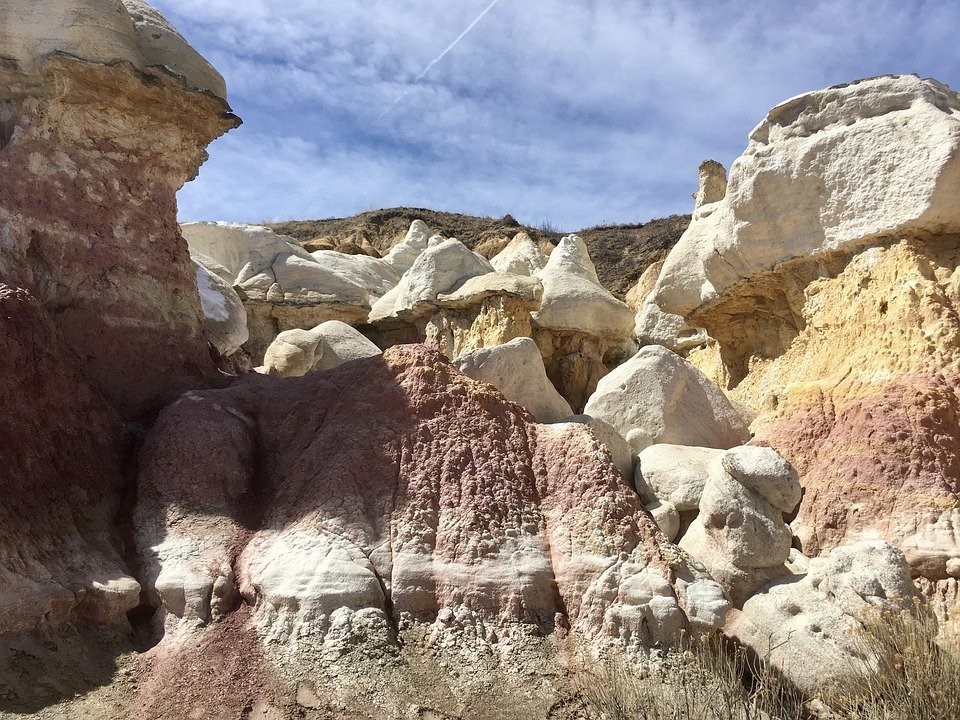 Location
Paint Mines Interpretive Park is one of El Paso County's most unique open spaces. The park can be found on the high plains of the northeast section of the county near Calhan, Colorado. About forty miles east of Colorado Springs while making this a perfect place to spend the day if you're coming from Denver.
As you drive up to Paint Mines Interpretive Park, you might start to wonder if you're in the right place. There's nothing but flat grasslands for as far as the eye can see. Until the small ravine opens up to reveal the colorful clayish rocks. When you lay eyes on the geological wonders of the sandstone hoodoos, you'll know this was the right place.
What To Do
Upon arriving at The Paint Mines Interpretive Park, there are three well-defined parking areas. The Paint Mines restroom is located at the main entrance to the trailhead and is open year-round. All parking lots have access to the 4 miles of hiking trails.
The gorgeous park is visited by birdwatchers, hikers, geological enthusiasts and so many more looking for a beautiful escape. And they are guaranteed to find it here. There may be no visitor centers or shops, but geological formations, wildlife, and the prairie flowers more than make up for it.
The park offers 4 miles of trails meandering through the gully. Including a 3.4 mile heavily trafficked loop. Along the trail, you come up close with the wonderous geological formations, like the hoodoos and spires. As well as beautiful wildflowers. You are guaranteed great views of the Painted Mines as well as the prairie. And even Pike's Peak located to the west of the park.
Wildlife, such as mule deer, coyote, pronghorn antelope, and small wildlife can be spotted throughout your hike. So keep a lookout. With the wide variety of birds throughout the area, this park is a perfect place for a birdwatcher.
Due to very little elevation change, this hike is good for all skill levels. Rated easy to moderate. It is best to visit between the months of March and October and avoid coming on rainy days. The trail is predominantly clay and gets muddy when wet. There's minimal shade within the trail, so it's recommended you explore in the early morning or evening if you're planning to visit during the summer months.
Please remember, dogs, bikes, and horses are not permitted in order to help preserve the natural lands. The rock formations and flora are delicate and it's best to leave them undisrupted. Which makes this the perfect place for a contemplative walk without your furry friends.
The Paint Mines Interpretive Park asks visitors to stay off the sandstone formation. Stick strictly to the designated trail and avoid washouts that can be mistaken for trails.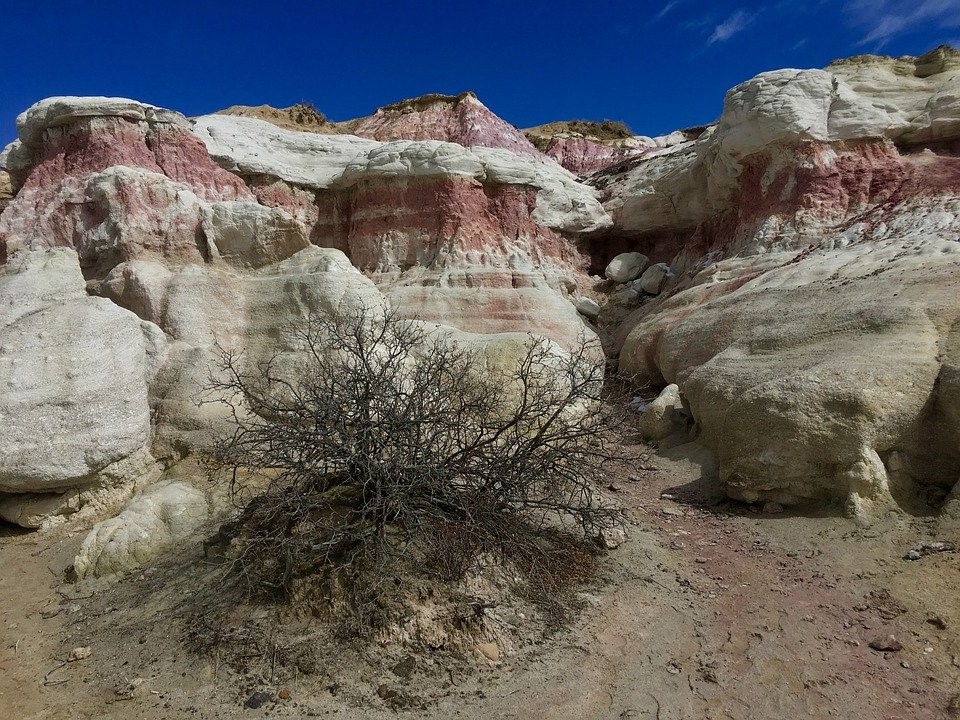 Park Details
Location:
29950 Paint Mines Road
Calhan, CO 80808
When to go: The park is open 7 days a week from dawn until dusk. The clay can get quite muddy when wet so be sure to pick clear days when visiting. There's little shade so during the summer try for early morning or evenings
How much does it cost: The park is free to enter
Driving Directions: Take Hwy 24 east from Colorado Springs to Calhan, turn south on Yoder Road/Calhan Highway, turn east on Paint Mines Road and look for the designated parking area
The basic do and don'ts of visiting:
Do stay on designated trails at all times
Don't climb on Paint Mine formations
Don't bring your pets, horses, or bicycles
Do avoid gulches and gullies during wet weather
Don't remove, destroy, or disturb any of the plants, wildlife, rocks minerals or historic artifacts within park boundaries
Once you're there: There are three well-defined parking areas along Paint Mine Road. All have access to the hiking loop trail. If the longer loop isn't for you, be sure to check out some of the shorter routes available through the park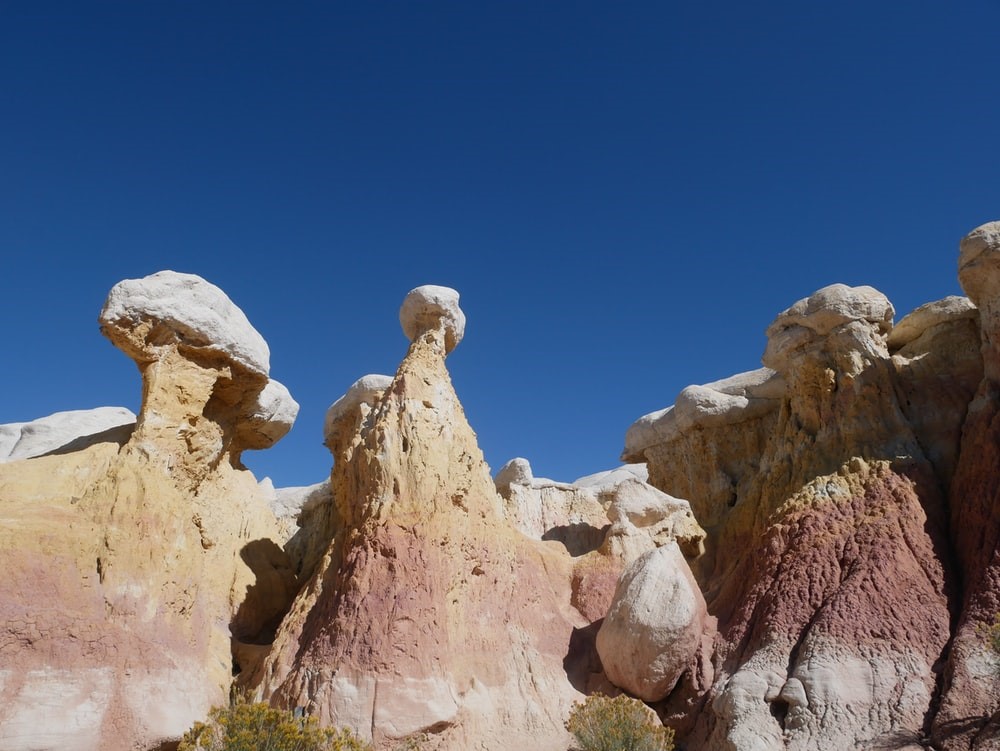 There are many things to see when you spend your day at the Paint Mines Interpretive Park. Let us know in the comments what your favorite part about The Paint Mines Interpretive Park was from your visit.
If you're looking for a new place to live, or interested in moving to the beautiful state of Colorado, find your next dream apartment here.
While one your search for the best apartments, be sure to check out, some of the amazing distilleries found around the state of Colorado.