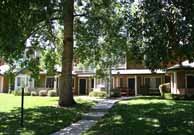 Are you looking for apartments for rent in Colorado? The Boundary Bay Apartments luxury complex is set on 60 acre Sunfish Lake.
Some features of this luxury complex are 60 acre lake and marina, 26,000 sq. ft. recreation center, athletic club, cafe, and 24 hr. gate attendance.
These beautiful 2 story luxury apartments for rent in Colorado offer private 2 car garage with automatic opener.
Boundary Bay Apartments are pet friendly.
Boundary Bay
Boundary Bay, The Breakers Resort's luxury townhome village, is set on the south shore of 60-acre Sunfish Lake. The village has front-row access to the lake, its wooded shoreline, and all recreational activities available at The Breakers Resort. Its roomy, multi-level and ranch-style townhomes provide the space and privacy of a single-family home.
About
Townhomes
Please Call For Prices
Address
9071 East Mississippi Avenue
Denver, Colorado, 80247
Contact
(303)752-8266
boundarybay@amcllc.net
Hours
Monday-Friday: 9-6 *Extended hours Tuesday & Thursday 9-7 Sat: 9-5 Sun: 10-5
How about you? Any luck finding apartments for rent in Colorado? Comment below.
Make Apartment Complexes Fight Over You!
To find your Preferred Apartment, please refer to https://www.marketapts.com/apartments
Or, click here: https://www.aptscolorado.com/discover-colorado-apartments